Sulastic Shackles Gen4 – Dodge 2500 / 3500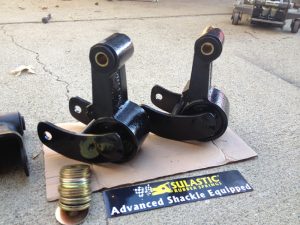 When it comes to 3/4 and 1 ton trucks you just cant beat them for towing. The ability to load thousands of pounds in the bed makes these trucks true work horses. However in order for the auto manufactures to make this possible they have to beef up the rear suspension to handle that kind of weight. The problem with that is when there unloaded and for some of us thats more than 50% of the time they simply ride like crap. You feel every bump in the road and ever expansion joint. So in our quest to find the best riding suspension for Project Big Horn we came across a company specializing in a product that reduces that jarring ride without sacrificing load capacity like full replacement leaf springs. We gave the folks down at Sulastic a call and ordered up a set to install on Project Big Horn, our 3/4 ton Ram 2500 4×4. Read along as we talk about the installation and how well these shackles work.
What are Sulastic Shackles?
Sulastic shackles are a patented shackle configuration designed to replace your stock OEM shackles with no modifications necessary. The Sulastic's consists of 2 shackles connected together with a vulcanized rubber compound that is engineered to absorb vibrations. As a result the vulcanized rubber absorbs all of the road imperfections before they transfer to the frame of the vehicle, leaving you with a more comfortable ride. See Below for pictures of our SC-07HD model we used on our 2007 Dodge 2500 4×4.
Our shackles are the latest version (Gen 4) set to be released at the beginning of 2014. They have the same great Vulcanized rubber and design but now with added rubber stops at the maximum and minimum operating stops. This improvement alleviates the metal to metal surface when the Sulastic's are fully compressed or opened. Below you can see what the shackles look like straight out of the box.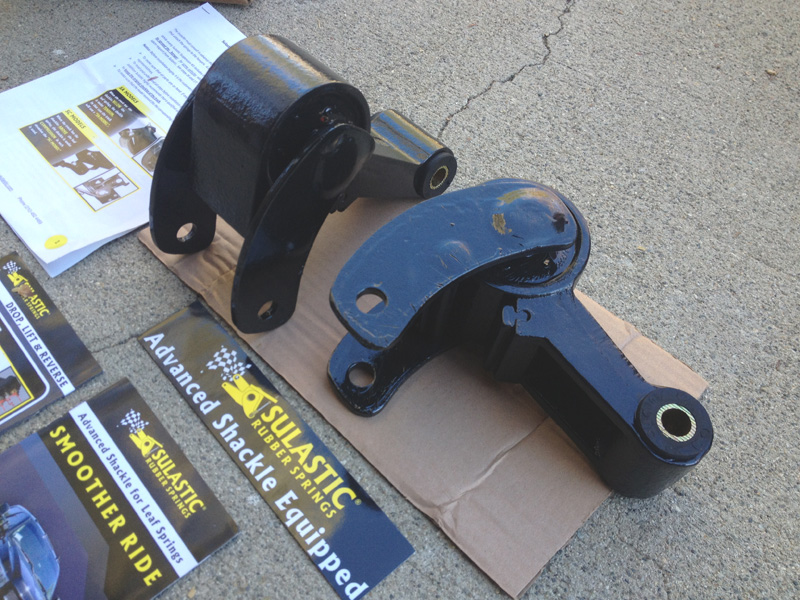 Installation
Installation is quite easy and took about 45 minutes taking my time. I started by jacking up the rear end of our truck until the leaf spring bolts are able to pulled out by hand. To do this I used an pneumatic impact gun to remove the nuts on both the upper and lower shackle bolts. Then jacked the rear of the truck off the ground by the receiver hitch until the bolts were loose enough to pull out. From there the stock shackles can be removed and your ready to drop in the Sulastic's.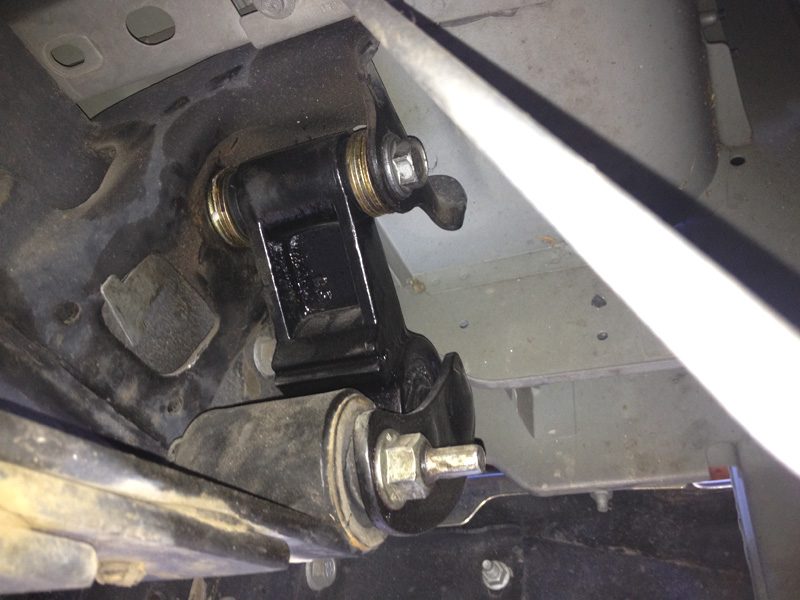 The instructions from Sulastic say you may need to use some of the supplied washers on each side of the frame side of the Sulastic shackle bushings. I ended up using 4 zinc coated washers per side, 8 total per shackle. But first I greased up the bolts and bushing before installation. I can't stand having noisy suspension so I lube up all moving suspension parts prior to putting them on the truck. Check out the pictures below of the before and after install. These shackles are pretty radical looking compared to the stockers.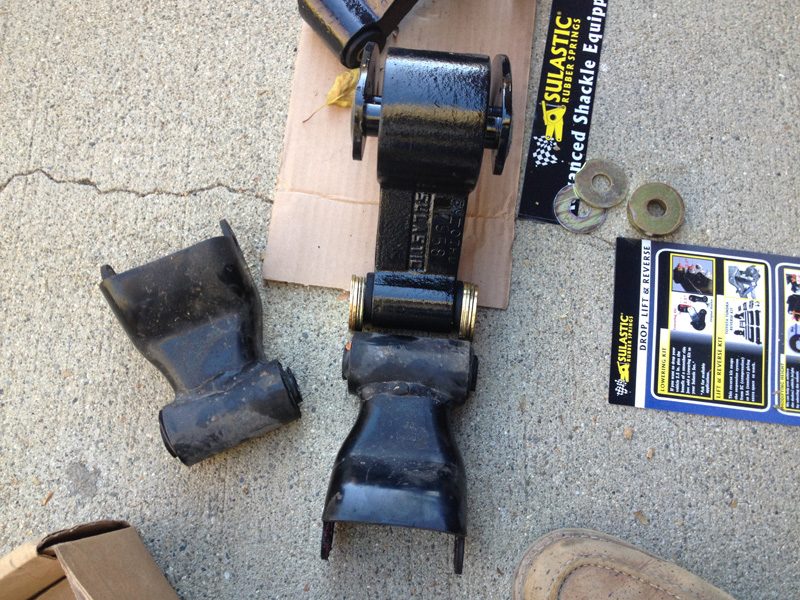 * After installing the Sulastic's we did notice a 3/4 of an inch height increase. Sulastic says they could settle about 1/4″ over time but I decided to remove 2 of the leaf spring spacers to put the truck back down to the original height. According to Sulastic a Model # SC-07 (Not HD) can be used as well and would only increase ride height by 1/4″.
Test Drive – First Impression
Well after the installation I was anxious to get on the road and see how well the ride was improved so I left the shop and hit the side streets. My first impressions were satisfying, I didn't expect the Sulastic shackles to instantly transform our truck into a cadillac or trophy truck but there was definitly some noticeable improvement. The bumps in the road were reduced 50% or so from before. Next test was to see how they performed on freeway expansion joints. I'm based out of Southern California and we have some of the worst roads in the country. Our freeways and roads outright suck! So I hit freeway anticipating that ever so familiar bounce that the expansion joints cause, to my surprise the jarring bounces were considerably reduced, Not gone entirely but definetly improved and tolerable. Finally we took the truck out onto the back roads to see how the Sulastic's performed off-road. Again, all ruts and bumps were noticeably softer than stock form. Finally our truck rides better with more of a 1/2 ton feel if I were to compare it to something.
Test Drive – With Loaded Weight
We use our truck a decent amount for hauling things from rocks to axles and everything in between. So we loaded it up with about 2000lbs in the bed and headed down the road. Between the factory heavy duty leafs and Sulastics the roads felt like freshly paved surface. I was impressed with the performance of these very easy to install shackles. One of the things we would like to note along with the improved ride is that these shackles don't reduce the trucks load capacity at all unlike full replacement leaf springs.
Pros
Ride quality improved noticeably over stock. No more hard jults or annoying expansion joint "rythem sections" on the Freeway's. Our trucks ride is comparable to a 1/2 ton making it much more enjoyable for everyday driving. Don't have to sacrifice load capacity like you would with custom leaf springs.
Cons
Some what pricey at just over $300 a pair. Life expectance is 4-10 years but all depends on how often you use your truck for hauling, etc. Sulastic said they have customers with shackles older than 10-years and still are working fine. We gained 3/4 of an inch of lift which was substituted by removing 2 of the leaf pack spacers on the factory leaf packs.
Conclusion
So after a few weeks of driving I am pleased with the performance of our Sulastic shackles. It honestly takes that jarring and annoying bounce out of our 3/4 ton trucks ride and thats what we were hoping to accomplish. The road trips are that much more enjoyable for all the occupants not just the driver. So if your looking for improvements to your ride quality but don't want to sacrifice your load capacity the Sulastic's may be what your looking for.
Sulastic Rubber Springs
7703 Cortland Oak
San Antonio, Texas, 78254
Phone: (210) 492-4469
Website: www.sulastic.com